Welcome to Ballater Health Clinic Website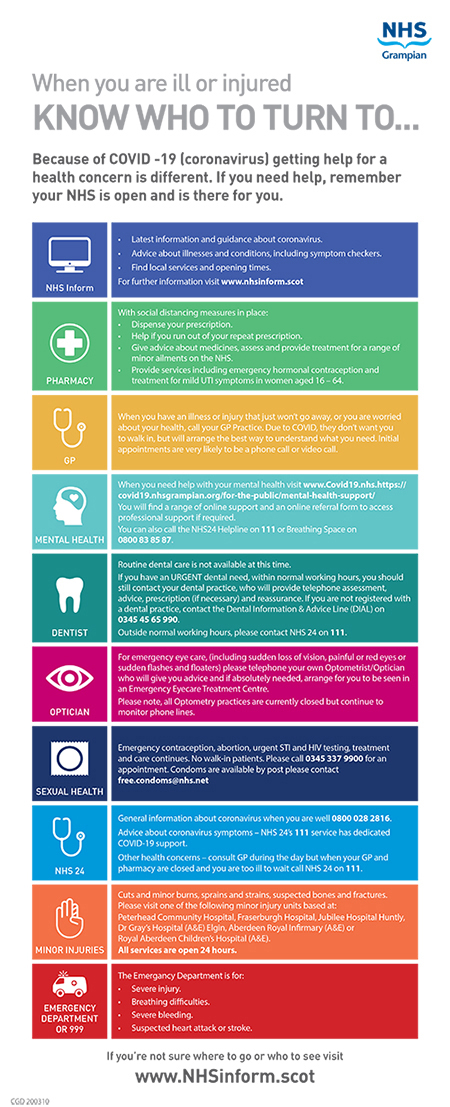 GP Practices have remained open throughout the COVID-19 Pandemic. As we move into a phased recovery, many medical services will resume and we will need your assistance to ensure we keep a safe and efficient service.
Much of what you may need to contact the surgery about can be dealt with without attending, so please phone first. You will in the first instance be given a telephone or video call. Only those who need face to face contact will be asked to attend the surgery with as few people as possible in the building at one time.
Despite a low number of cases in Grampian at present people are moving freely round the country again and patients with Coronavirus can be asymptomatic. These measures will hopefully reduce any potential local/regional transmission in the future.
NHS Inform
If you have developed any symptoms suggestive of coronavirus in the past 7 days (new continuous cough and / or a fever) please follow the government guidance to stay at home for 7 days from the start of your symptoms even if your symptoms are mild.  At present you do not need to inform your Dr of this unless you feel you are in an 'at risk group'.
Due to the increase in Coronavirus cases within Scotland a specialist team has been set up to assist you if you feel you are becoming unwell. They can be contacted by phoning 111.
If you are uncertain about your symptoms follow the following link and it will guide you through the process.
https://www.nhsinform.scot/illnesses-and-conditions/infections-and-poisoning/coronavirus-covid-19/coronavirus-covid-19-general-advice


We know that often patients will present to the reception to try to book an appointment but we ask that you do not do this as appointments will not be issued this way. Instead please telephone us, and our triage team will phone you back.
We are aiming to deal with as much as possible over the phone and also offer video consultations now (please visit our video appointments page for details).
There will of course be times when patients may need to be seen and we will organise this safely if needed.
We would like to thank all our patients for their understanding and help with keeping us all as safe as possible during this difficult time.
Practice updates can also be found on our dedicated Cornonavirus Facebook page  
https://www.facebook.com/Ballater-Clinic-Coronavirus-page-106660610965346/
Site Map
|
Contact Us